City Opera News for 14 Dec 2021
COVID and concerts…
Musicians improvise. COVID demands improvisation. In 2021, we gave 33 PoPUpOpera concerts. These included two at Cottage Hospice, three in support of vax clinics at the Convention Centre, and four at Sun Yat-Sen Gardens. Below, two of the staff who came outside for our concert at the DTES Coastal Health Clinic.
They were outdoors – where it was safe for artists and audiences to gather. We made our first appearance at ACT in Maple Ridge. When PHOs were changed, we opened the Chutzpah Festival (indoors) at the JCC Rothstein Theatre in A Night at the Opera (1935 MGM Marx Bros, 2021 us). We are planning 45 more outdoor concerts in 2022 – thanks to the generous support of the City of Vancouver, BC Gaming, and the BC Arts Council. And you.
Jack Trip
As COVID continues, many in the performing arts continue to rehearse online – dissevered by lag, latency, and freezing. In a new audio tech out of Stanford, there is a solution.
Thanks to a major grant from the BC Arts Council, we are – together with the BC Canadian Music Centre – able to share it with non-profit arts groups in Metro Vancouver. We have purchased and tested 40 suites of equipment. They are now available without charge in a new lending library at CMC, 837 Davie Street. COVID compliant, of course. Pls phone first to 604.734.4622. Ask for Leland.
Chinatown
The opera has been delayed a year because of COVID. We now open in Sept 2022 at the Vancouver Playhouse, preceded by FINDING CHINATOWN in July and August.
Meantime, we continue to refine and beta-test the work itself. At public concerts and talk-back events in November, at the Sun Yat-Sen Gardens and the CNL Auditorium, we presented the work with six singers, keyboard, erhu, and percussion instruments.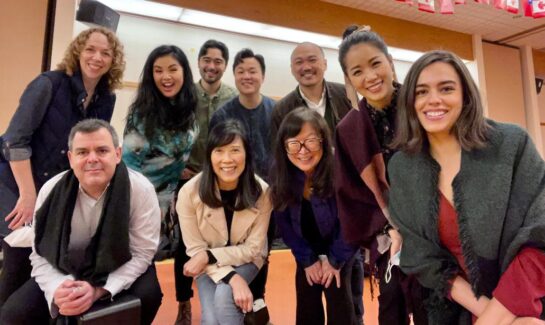 Great thanks to workshop singers Justin Cho, Erica Iris Huang, Luka Kawabata, Derek Kwan, Sodam Lee, and Emma Parkinson. Special thanks to Susan Ma, Trudy Chalmers, Mary Chun, Roger Parton, Lan Tung, Rachel Peake, and Stephanie Wong. Best thanks to librettist Madeleine Thien, composer Alice Ping Yee Ho, and translator Paul Yee for giving us a powerful, lyric, and most beautiful new chamber opera.
Missing in Alaska
Our fourth commission, by Marie Clements and Brian Current, in partnership with Pacific Opera Victoria, has received 22 performances in Vancouver, Victoria, Prince George, and Regina to date.
In February 2022, it has its US premiere at Anchorage Opera in Alaska. If you're there… anchorageopera.org/missing/
City Opera & the Marx Brothers return…
with Megan Latham, Martin Renner Wallace, Alan Corbishley, and Roger Parton to Maple Ridge in A Night at the Opera
15 years ago this month…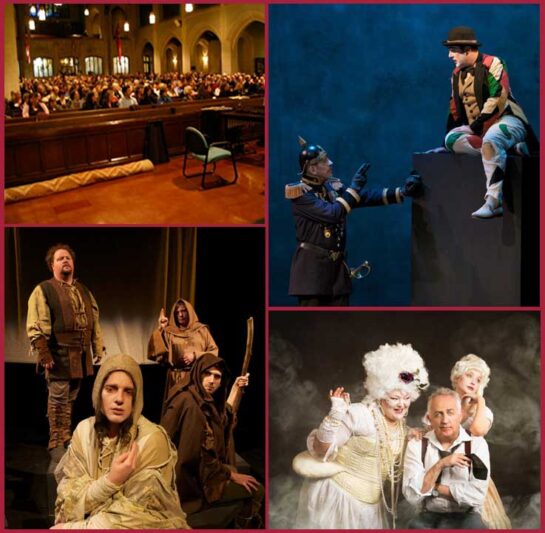 the Board of City Opera met for the first time. Since then: 10 mainstage productions. 5 commissions in the last 9 years. 208 concerts – 67 of them in the DTES. Four OnLine Operas. Two Festivals of Contemporary. And super thanks to our supporters for making all of this possible.
A word from our friends…
• Messiah / Complex comes to the Cinematheque on 14 December
• PuSh opens its 18th Season on 20 January with a stunning line-up
• Dr Sun Yat-Sen Classical Chinese Garden offers year-round concerts, programming, and special events
• Sound the Alarm Radio Theatre
• Vancouver Opera presents Cavalleria in Concert
A Blüthner for you…
A friend of City Opera wishes to donate a 1913 Blüthner grand piano, 6′ 3″, to a music school or other non-profit in Vancouver. It is in good working order, but needs minor repairs – including to a small crack in the sound board – estimated at $600. Must move by 19 December. Serious enquiries only: info[AT]cityoperavancouver.com.
Coming in 2022…
• 45 more PoPUpOpera events
• two more OnLine Operas
• Festival of Contemporary III
• City Opera and The Marx Bros in Maple Ridge
• FINDING CHINATOWN, in Maple Ridge, Richmond, and Vancouver
• Opening Night community dinner and Memorial March
• CHINATOWN world premiere, 13 – 17 September, Vancouver Playhouse
• and more…
Like to help?
Many groups are doing worthy work in the arts, in health, and in the community. If you think City Opera one of them, we'd be honoured by your support. You will get a tax receipt, a lovely letter from our President, an allegedly amusing phone call from our Artistic Director, and enduring thanks from all of us.
By cheque:

'City Opera Vancouver', PO Box 88393, Vancouver BC V6A 4A6
By Canada Helps
And the happiest of holidays to everyone – please.
/wp-content/uploads/2023/06/cov-web-logo-1030x240.png
0
0
generalmanager
/wp-content/uploads/2023/06/cov-web-logo-1030x240.png
generalmanager
2021-12-13 11:30:49
2021-12-14 10:58:57
City Opera News for 14 Dec 2021