COV News Special – Oct 26, 2021
Chutzpah, Marxes, & City Opera
Chinatown Preview • Virtual Studio
Missing in Alaska
DTES PoPUpOpera • 14th AGM
Chutzpah Festival. Marx Brothers. City Opera.
None had more chutzpah than the Marx Brothers. In their 1935 MGM classic, A Night at the Opera, their absurd and subversive humour is in full bloom. Join City Opera as we open this year's Chutzpah Festival with the original music parodied in the film – and then present the film itself. Thursday 4 November, 7:30pm. Norman Rothstein Theatre, in the Jewish Community Centre, at 41st x Oak.
With soprano Michelle Koebke, tenor Martin Renner Wallace, pianist Roger Parton, free popcorn, and a Mystery Guest.
Chinatown Public Workshops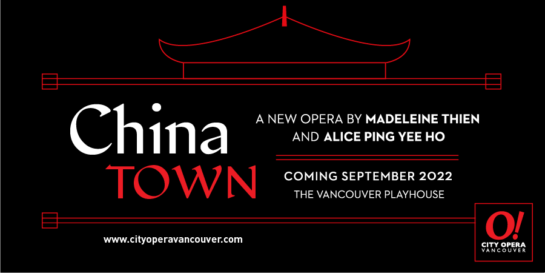 In late November, we present the piano-vocal version of our new opera Chinatown. Hear the work ten months before it opens, and give us your thoughts. Free, of course, thanks to the Vancouver Foundation – and COVID compliant. Masks and passports, please.
Sat 27 November. 2pm. Hall of 100 Rivers, Dr Sun Yat-Sen Gardens. 578 Carrall Street
Sun 28 November. 2pm. CNL Auditorium. 537 Main Street, second floor
DTES PoPUpOpera Continues
We give another outdoor concert in this year's DTES Heart of the City Festival. With soprano Catherine Thornsley, and tenor Justin Cho, it starts at noon on Wednesday 3 November, Gore x East Cordova. Free, of course, thanks to BC Gaming.
… and so does the Festival of Contemporary II
Starring Isaiah Bell, Brent Carver, Marie Clements, Cris Derksen, Jeremy Dutcher, Alice Ping Yee Ho, Louis Lortie, Jocelyn Morlock, Marion Newman, Roger Parton, Crystal Pite, Roydon Tse, and so many more. A new entry, every day at noon. All online, and all free, at CityOperaVancouver.com.
Virtual Studio Comes to You
New technology from Stanford has solved the problem of lag and latency in audio rehearsals. The software is free, but special equipment is required. Thanks to a generous award from the BC Arts Council, it is now available on loan – without charge.
Together with our friends at the Canadian Music Centre in BC, we are making it available to performing arts groups here. Please contact the CMC at bcregion@cmccanada.org to make an appointment. COVID compliant.
Missing to be Produced in Alaska

In November 2017, in Vancouver and with Pacific Opera Victoria, we gave the world premiere of Missing, a powerful opera about missing and murdered aboriginal women in Canada. It has since had 22 performances in those cities, and in Prince George and Regina.
Thanks to our friends at Anchorage Opera, it receives its American premiere in February 2022.
Our 14th AGM
Starts at 6:30pm, Monday 8 November, on Zoom. A review of the year past, and highlights from the next. Care to join us? Please contact General Manager Trudy Chalmers, at manager@cityoperavancouver.com, for the link.
/wp-content/uploads/2023/06/cov-web-logo-1030x240.png
0
0
generalmanager
/wp-content/uploads/2023/06/cov-web-logo-1030x240.png
generalmanager
2021-10-26 14:52:38
2021-10-29 09:31:52
COV News Special – Oct 26, 2021