City Opera News for 15 Dec. 2019
Berlin In 1934 • Chinatown in Workshop • Missing On Tour • 2019 In Review • Can You Help?
---
Berlin 1934: The Last Cabaret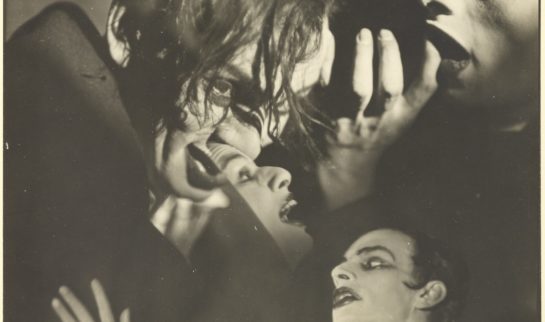 8pm 23, 24 and 25 January 2020 / Performance Works on Granville Island
Tickets on sale now. All seats $44.50 only through PuSh
For the first time, a City Opera production is part of the great PuSh International Festival – and co-presented with Sound The Alarm: Music/Theatre. We partner in the spirit of cabaret itself: eclectic, electric, and new. Please join us.
Chinatown. A new opera by Madeleine Thien
A story of culture, family, and ourselves
We held our first text-only workshops in November – December, and dozens of people joined us at three events in Chinatown and the DTES. Through workshops, we hear the community directly.
Chinatown opens in September 2021 at The Vancouver Playhouse. The piano-vocal workshops will be held one year from now. Our very great thanks to The Vancouver Foundation, and the City of Vancouver / Cultural Services, for their generous support.
Missing, on tour. A new opera by Marie Clements and Brian Current
Our acclaimed new opera has now toured to Prince George and Regina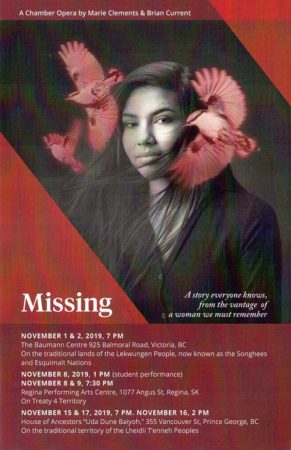 In 2019 we held our first tour for Missing, and it was extraordinarily well received. Our commission has now received 22 performances in Canada. Thanks to our partners at Pacific Opera Victoria, the touring version has now been seen at Regina and Prince George.
"There's a scene in Missing wherein Rose-Ellen Nichols just weeps. Weep isn't a strong enough word. She's in anguish. She portrays a character simply called Native Mother. Her daughter has gone missing on British Columbia's Highway 16, the Highway of Tears… It's a heart-wrenching production. The hope in presenting Missing in Regina on Friday and Saturday (Nov. 8 and 9) was to help bridge the divide between Indigenous and non-Indigenous people.
"Missing was devised in 2017 through City Opera Vancouver and Pacific Opera Victoria. It was co-presented in Regina by the Regina Symphony Orchestra and Regina Treaty/Status Indian Services. Before Friday night's show, there was acknowledgment of survivors whose loved ones are among the many missing and murdered Indigenous women and girls in Canada.
– Ashley Martin, Regina Leader-Post, 9 Nov 2019
2019 in Review
We gave 18 concerts and special events, including a first appearance at West End Car Free Days, our 10th annual appearance at Italian Day on The Drive, a sneak preview of Berlin at the DTES Carnegie Centre, performances in the VSO Day of Music and in BC Culture Days, our first concert at Vancouver City Council Chambers, and more. We also worked on the upcoming mainstage productions of Berlin, The Opioid Opera, Chinatown (2021), and Brother XII (2025).
City Opera has given a total of 143 concerts and events so far – including 42 in the DTES alone.
Can you help?
Even chamber opera costs money. So do our many concerts. Ticket sales account for – at best – 1/3 of their actual cost. Your generosity keeps opera affordable in Metro Vancouver.
Chamber music costs money. Rights to the Weimar songs we are using in Berlin cost over $9000. These songs are the engine of our story, and essential to our project.
Can you help? You will receive a federal tax receipt, a cheery letter, and a grateful phone call. Thanks!
By Cheque: 'City Opera Vancouver', PO Box 88393, Vancouver V6A 4A6
Online on the City Opera website's Donation page
From our friends

Vancouver Opera Presents The Barber of Seville
Four shows only, February 13-23, 2020, at the Queen Elizabeth Theatre
Chase away the February blues with The Barber of Seville, a feast of frivolous fun. Enjoy Figaro's mischievous escapades as he assists Count Almaviva in prising the beautiful Rosina away from her lecherous guardian, Dr. Bartolo. Directed by Ashlie Corcoran, Artistic Director of the Arts Club Theatre, you won't want to miss this production that proves that the road to true love is paved with theft, lies, bribery, bawling – and wicked comedy.
Tickets start at $50. Call 604-683-0222 or buy online at vancouveropera.ca
Photo by David Cooper, Courtesy of Pacific Opera Victoria.
---

Show One Productions: Les Ballets Trockadero de Monte Carlo
February 1, 2020 at 8pm
Show One Productions presents the much anticipated return of the world famous, all-male ballet company, Les Ballets Trockadero de Monte Carlo, onstage February 1, 2020 at 8pm at the Queen Elizabeth Theatre. This sensational performance will showcase the Trocks' wickedly absurd antics and serious dancing chops — featuring sly send ups of beloved ballet classics Swan Lake and Le Grand Pas de Quatre. Infused with a heavy dose of highbrow hilarity, this antic-laden production will have audiences cheering from their seats in a no-holds-barred celebration of fabulous frothy fun. Tickets from $25 (plus applicable fees).
TICKETS & INFO: Show One Productions website
---
Electric Company Theatre: Anywhere But Here
February 4-15, 2020
Electric Company Theatre announces the world premiere of Carmen Aguirre's spellbinding new work, Anywhere But Here from February 4–15, 2020 at the Vancouver Playhouse. A haunting blend of dark comedy and magical realism, the work is a vibrant celebration of Latinx theatre, with music and raps by Shad, that chronicles the many paths, real and imagined, we take to discover the truth — the truth about who we are, and where we may be headed. Telling an engrossing story that intersects multiple timelines and spaces, Anywhere But Here introduces us to a host of fantastical characters who have experienced the pull of home, the ache of displacement, and the harsh realities of the border as they attempt to cross, guard, or survive it in Trump's America. Produced in association with Playwrights Theatre Centre. Presented with the PuSh International Performing Arts Festival. Tickets from $19.99.
LINK: Electric Company Theatre
/wp-content/uploads/2023/06/cov-web-logo-1030x240.png
0
0
generalmanager
/wp-content/uploads/2023/06/cov-web-logo-1030x240.png
generalmanager
2019-12-13 21:42:46
2020-01-08 09:12:25
City Opera News for 15 Dec. 2019