City Opera News for 17 June 2019
Our Three Tenors Saluted Pavarotti
On June 5, City Opera tenors Turgut Akmete, Scott Rumble, and Sunny Shams, with pianist Roger Parton and curator Alan Corbishley, presented a musical tribute to the great Luciano Pavarotti. 200 attended. Many wept. All applauded.
This was the first of four concerts we are giving at Il Centro: The Italian Cultural Centre this season. Our very great thanks to Giulio Recchioni, their Director of Cultural Activities, to the Consuls of Italy and of France, to our private donors, and to BC Gaming and Metro Vancouver for their continuing support.
City Opera At City Hall
Promoting Italian Day, its organizers and the City invited us to participate in a new event at City Council chambers on June 7. It drew a full house, including the Mayor, and was live-streamed on the City's channel. Tenor Turgut Akmete and soprano Michelle Keobke, fortified by pianist Roger Parton, presented Nessun Dorma and La Danza.
Our 10th Annual Concert at Italian Day on the Drive
More than 100,000 people attend Italian Day every year, and on June 9 thousands stopped by to hear City Opera artists Chloé Hurst (soprano), Jason Cook (baritone), and pianist Roger Parton (non-singing, thank God) in a wonderful programme curated by Alan Corbishley. Thank you for joining us at the Second Avenue Stage.
Our First Concert at Car Free Day in the West End
And thousands more attended the Robson Street Stage on June 15, hearing City Opera artists Chloé Hurst, Jason Cook, Roger Parton and Alan Corbishley. The wind came up, the banner blew over, a sandbag fell on Alan, and our keyboard didn't work – but our people were so ably improvisational that it just didn't matter. The audience ate it up. This was City Opera's 136th public event.
Coming Next
11 July: Italy vs France: a Duelling Concert.
Il Centro, 7:30pm
Eve-Lyn de la Haye, Meghan Latham,
Martin Renner Wallace, Jason Cook.
Pay what you can
8 August: Bridezillas of Opera.
Il Centro, 7:30pm
Michelle Keobke, Melanie Krueger, Heather Molloy. Pay what you can
10 Sept: Opera Goes to Hell.
Il Centro, 7:30pm
Elaina Moreau, Peter Monaghan. Pay what you can
26 October:
The Berlin Project: a sneak preview concert.
Carnegie Centre, 7:30pm, DTES Heart of the City Festival. Free
Coming Soon
The Berlin Project / January 2020
Berlin. 1938. The last cabaret. The last night.
We explore the music, culture, and artists of the Weimar Republic – one of the most extraordinary periods of risk and transgression, adventure and astonishment, in the 20th century. It foresaw catastrophe. Modern analogy abounds.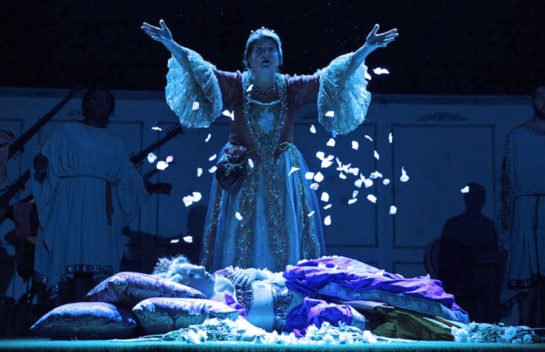 Dido And Aeneas & Dido / November 2020
The same story, told twice — first as tragedy, then as farce. First by Henry Purcell, then by James Rolfe. A unique double-bill, and a Vancouver premiere.
Chinatown / September 2021
Our fifth commission in nine years, Chinatown will open at The Vancouver Playhouse in September 2021. Meantime, librettist Madeleine Thien is hard at work with dramaturge Rachel Peake, stage director Debi Wong consults with community engagement co-ordinator Susan Ma, and all of us thank The Vancouver Foundation and the City of Vancouver for their tremendous support of this new chamber opera.
The first public workshops will take place in late November. Details to come.
Abraham Rogatnick (1923 – 2009)
We note with sadness, and remember with love, the great architect, professor, scholar, historian, and citizen of Vancouver. He passed away ten years ago, on 28 August 2009.
Abraham helped, guided, and critiqued many of us in this city, for many years.
Starting in 2005, City Opera was lead company in the effort to save the 650-seat Pantages Theatre, the oldest in Western Canada. Abraham was one of our earliest supporters, and pledged $1,000,000 toward its restoration. You are missed, Abraham.
/wp-content/uploads/2023/06/cov-web-logo-1030x240.png
0
0
generalmanager
/wp-content/uploads/2023/06/cov-web-logo-1030x240.png
generalmanager
2019-06-17 13:54:58
2019-06-17 22:32:15
City Opera News for 17 June 2019