City Opera News for 18 Jan 2021
MEUS EX MACHINA
THE HUMAN VOICE. NOW COMPLETE, ONLINE, AND FREE
A dazzling and contemporary adaptation of Poulenc's masterpiece, La Voix Humaine. The agony of failed love. Failed technology. A story of ourselves.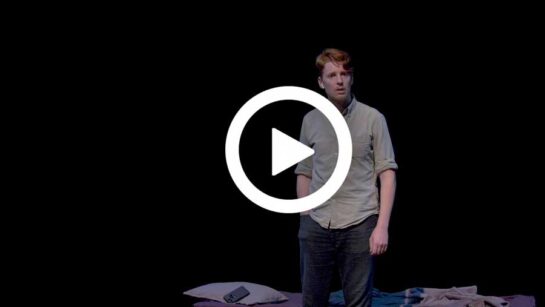 This is the first new production at City Opera Online. Starring tenor Isaiah Bell, with pianist Roger Parton, The Human Voice presents a flip of gender, and a metaphor of global pandemic. It runs 47:00. Now in English, Isaiah sings to his male lover, and into the abyss of COVID. In a Zoom call impaired by lag and freeze and dropped signals, technology is once again enemy to intimacy. We are diminished by the necessity of distance, by the anaesthetic of the machine. And we endure.
The first reviews…
I adore La Voix Humaine, so was a tad skeptical about any adaptation, but this has won me over in just the first 2 'episodes' – and I'm already dreading the last one. [Crying face] PS My first 'Elle' was Magda Olivero, sigh. — MP
I just saw the first episode of The Human Voice and just loved it. Really awesome! your production totally nails this completely! — BB
Congratulations on the first episode – it looks great, sounds great, and it's a brilliant conception. I'm sure it will have buzz and entice more listeners. Isaiah really threw himself into this one, didn't he? Fanfare for your pivot! — NK
Will watch with great interest & curiosity. Isaiah is a wonderful artist & Roger a terrific pianist. — JF
Just watched The Human Voice Episode 1, I LOVE it and cannot wait to see the rest! I was so taken by the music, singing, and setup of this dark, gentle, disturbing inner psyche of the character. The solo tenor's voice is absolutely splendid, I am so impressed with his diction, clarity, and color. Roger is fantastic at the piano! — AH
This was Brilliant, I really enjoyed it!! — DS
Bravi to everyone involved in @CityOperaVan's reimagining of Poulenc's "La voix humaine"! Poignant, of the moment, and beautiful. Clapping hands — NK
Vancouver Opera Guild scholarship
Each year, our friends at the Vancouver Opera Guild offer a scholarship. This year, they are awarding a Career Development Grant of $6000 to a highly-qualified singer, age 20 to 33. Their application deadline is 15 April — attention Mrs Gwenda Murray. Full details on the Vancouver Opera Guild website.
From our friends at Opera Mariposa
Opera Mariposa is also going digital this season. The Vancouver company, whose shows have been hailed as "well-honed" (Opera Canada) and "an evening of delight" (Review Vancouver), has recently premiered two special events on their YouTube channel. Making Opera Accessible is a panel discussion featuring multi-award-winning artists and advocates from across Canada, delving into some timely topics: everything from bringing music to high-risk audiences, to how our historic art form can embrace the future of storytelling.
Meanwhile, Opera Treats serves up bite-sized musical content for those who've been craving more opera. Premiering this month, the first offering features a performance by award-winning soprano Jacqueline Ko and acclaimed pianist Maria Hwa Yeong Jung. There's more to come — subscribe to Mariposa's YouTube channel so you don't miss it. Interested?
City Opera art auction and Chinatown
Curator Bill Jeffries has organized four online art auctions for City Opera, raising some $60,000. We thank him, and Heffel Fine Art Auction House, very much. Bill is now managing a fifth, in support of our new opera CHINATOWN.
We are soliciting donations of worthy artwork. Can you help? Do you need to make space on a wall or in a closet? We can help.
If you know anyone who would like to donate gently owned art, please contact Bill at bjeffries@telus.net We provide thanks, and a charitable tax receipt based on fair market value. And a great new opera is born.
/wp-content/uploads/2023/06/cov-web-logo-1030x240.png
0
0
generalmanager
/wp-content/uploads/2023/06/cov-web-logo-1030x240.png
generalmanager
2021-01-18 10:04:30
2021-01-18 11:23:40
City Opera News for 18 Jan 2021