City Opera Vancouver News / 15 March 2021
The Human Voice / Online Opera No. 1…
starring tenor Isaiah Bell, with pianist Roger Parton, has attracted wonderful reviews. In the Spring 2021 edition of Opera Canada, critic Robert Jordan writes:
"With a remarkably fine tenor, Isaiah Bell conveys his character's vain attempts to communicate an utter devastation that his male lover is ending their relationship. Bell's fine-tuned performance is so perfectly married to his own sensitive and intelligent adaptation that the viewer is irrevocably drawn into the unfolding of this intensely personal drama.
"Roger Parton provides outstanding pianistic support to the harrowing onstage drama… Parton makes it all sound effortless.
"Chris Randle's lyrical videography almost has a personality of its own. His ever-sensitive camera discreetly follows Bell's character as he desperately struggles to communicate his anguish to his lover…
"Sophie Tang's lighting complements Randle's videography by providing exactly the right quality and intensity of light for every shifting expressive moment…
"Andrew Smith's recorded sound turned out to be so clear and Bell's diction so exquisitely precise, COV realized supertitles were unnecessary after all: Bell's every syllable was perfectly comprehensible."
In one act and 47 minutes, it remains free and online for a year.
COMING NEXT:
Perruqueries / Online Opera No. 2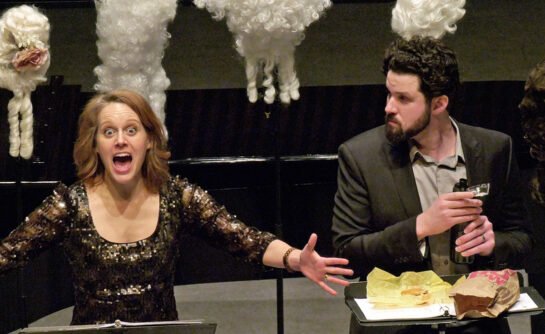 Do you have questions about wigs? Wonder who to ask? Join us for a comic cantata by Bill Richardson & Jocelyn Morlock – with soprano Robyn Driedger-Klassen, bass-baritone Peter Monaghan, and pianist Tina Chang.
Hear about the soprano whose wig caught fire during Tosca, hockey players who wear more than helmets on their heads, and more. Free, of course, and coming very soon.
Art Auction V / 2021
Curator Bill Jeffries has organized four online art auctions for City Opera, and raised $60,000. We thank him — and our partners at Heffel Fine Art Auction House. Bill is now organizing a fifth, in support of our new opera CHINATOWN. It is a rolling auction and continues across the year.
We are soliciting donations of worthy artwork. Can you help? Should you need to make space on a wall, or in a closet…
Thanks to Round One donors Anna Kirkbride, Sharon Meen, Michael O'Connell and Carol Sawyer. The art of Christos Dikeakos, Fay Godwin, and Toni Onley is a wonderful gift.
If you know anyone who would like to donate gently owned art, please contact Bill at bjeffries@telus.net. We provide thanks, and a tax receipt based on the fair market value of the work.
PoPUpOpera 2021
Weather and COVID permitting, at the end of April we re-start our PoPUpOpera mini-concerts. We gave 19 last summer, all around Vancouver. We are planning 25 this season. Alan Corbishley, producer. Free, of course. Thanks to BC Gaming for its support.
Coming to City Opera Online…
Rose has been set up on a blind date. They agree to meet at the statue of Venus, but the moment Rose arrives she has regrets.
Join us for a charming, sweet, poignant romance, full of doubt and self-doubt and longing. Starring Robyn Driedger-Klassen, with pianist Terence Dawson, AT THE STATUE OF VENUS is not to be missed – and is coming in June. Libretto by Terrence McNally, and all by special permission of composer Jake Heggie. Free, of course.
Virtual Studio…
is a new tech from Stanford that seems to have solved the problems of lag and latency that make online rehearsals and performances so flawed. In late January, the BC Arts Council made a generous award allowing City Opera to purchase this equipment.
Through the Canadian Music Centre, we will be sharing it with other performing arts groups in Vancouver. Meantime: a fascinating piece in The New Yorker about how – and why – it works.
Our thanks
City Opera, like every company during pandemic, is grateful for the ongoing and generous support of our friends and patrons, and of foundations, agencies, and government at every level. We thank you for your steadfast belief in chamber opera, new music, and great Canadian stories.
/wp-content/uploads/2023/06/cov-web-logo-1030x240.png
0
0
generalmanager
/wp-content/uploads/2023/06/cov-web-logo-1030x240.png
generalmanager
2021-03-04 10:52:26
2021-03-15 20:38:05
City Opera Vancouver News / 15 March 2021