City Opera e-special for March 31, 2022
CHINATOWN
a new opera by Madeleine Thien, Alice Ping Yee Ho, and Paul Yee
13 – 17 September 2022 / The Vancouver Playhouse
preserving the legacy / telling the story
CHINATOWN is a story of family and neighbourhood, racism and resistance, history and ourselves. Set in 1961, it pivots to the building of the CPR, and forward to our own times.
It deals frankly with the Head Tax, the Exclusion Act, Paper Sons, and paper promise.
It is a Western opera, but incorporates traditional Chinese themes, sounds and sensibilities. And it is a love story, told beautifully in music. We believe it will speak to many hearts.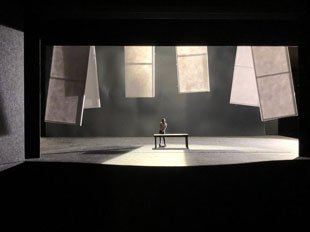 In two acts and two hours, CHINATOWN examines six characters, two families, and a chorus of ghosts. Its fusion orchestra plays both Chinese and western instruments. We provide English and Chinese supertitles throughout.
Our cast is entirely Chinese-Canadian, and features rising stars in the world of opera. Together with the artistic team, they will be announced in late July at the time tickets go on sale, and FINDING CHINATOWN begins. Please join us, and bring someone you love.
---
THE BUCK STARTS HERE…
We haven't raised ticket prices in five years. We want to keep it that way, and appeal to wide audiences that include the very young and very old.
Can you help?
This is the Vancouver Playhouse. It seats 668. But even chamber opera costs money. If we sold all 3440 seats at production cost, each ticket would go for $188.
With your help, we can keep seats affordable. Your support will lead to a great new Canadian opera accessible to all, a federal tax receipt, and our most grateful thanks.
BY CHEQUE: City Opera Vancouver, PO Box 88393, Vancouver BC Canada. V6A 4A6
BY CANADA HELPS: http://cityoperavancouver.com/donate-to-city-opera
Who agrees that "CHINATOWN may be the most important new opera premiered in Canada this year"? Our friends do:
John Atkin, civic historian
Margaret Atwood, novelist, essayist, poet, librettist
Sean Bickerton, BC Director, Canadian Music Centre
Shirley Chan, community activist for Chinatown, O.B.C.
Winnie L. Cheung (張麗玲), PCHC – Museum of Migration Society
Catherine Clement, community curator
Judith Forst, mezzo-soprano
Christopher Gaze, Founder and Artistic Director, Bard on the Beach
Terry Hunter, Savannah Walling, DTES Heart of the City Festival
Kelly and Maggie Ip, S.U.C.C.E.S.S.
Lorraine Lowe, Executive Director, Dr Sun Yat-Sen Classical Chinese Garden
Walter Quan, cultural worker
Leticia Sanchez, President, Vancouver Asian Heritage Month Society
Sid Chow Tan, President, Head Tax Families Society of Canada
Bramwell Tovey, Music Director Emeritus, Vancouver Symphony Orchestra
Mauro Vescera, CEO, Museum of Vancouver
Alexander Weimann, Pacific Baroque Orchestra, Early Music Vancouver
Maurice & Jane Wong, Modernize Tailors Family, Chinatown
Wendy Yip, President, Pacific Canada Heritage Centre / Museum of Migration
Jennifer Yong, Vice President, Legal, Cymax Group Technologies
/wp-content/uploads/2023/06/cov-web-logo-1030x240.png
0
0
generalmanager
/wp-content/uploads/2023/06/cov-web-logo-1030x240.png
generalmanager
2022-03-29 10:34:56
2022-03-31 11:15:26
City Opera e-special for March 31, 2022