Hello All,
We're excited to announce that City Opera's premiere production of Chinatown has received a major donation in the form of a huge sale of BC pottery, most from the studio and collection of Charmian Johnson.
For this event, May 28 & 29, Charmian Johnson's pots are priced to sell. We want all of them to find new homes! Many great values are to be found.
Bring bags, or boxes, or both. You'll be astonished by what's available.
Sales are cash only. On the Sunday, new pots will be available – there will not be room for all 500+ on Saturday.
A word about Charmian Johnson (1939-2020)
Charmian was a graduate of UBC. She taught elementary, high school and university, then taught teachers in the Department of Education at UBC. Her interest in pottery-making began in the late sixties, studying under Glenn Lewis. By 1970, she had her own studio at home in East Vancouver, where she produced work until 2014. She left many unfinished pots which are part of this sale. They were completed by several local potters, with Charmian's existing glazes, and fired in her kiln in 2020/21 in three batches.
Charmian also worked in pen and ink, producing a large series of floral drawings. Both her pots and her drawings have been collected by individuals and institutions locally and across Canada.
A word about the sale
Funds raised for City Opera at the sale will go toward the production of CHINATOWN, a new work with libretto by Madeleine Thien, Hoisan translations by Paul Yee, and music by Alice Ping Yee Ho. It is a wrenching love story of family and neighbourhood, racism and resistance, and a mirror to the cultural fusion that is Vancouver's Chinatown.
Our new opera runs at the Vancouver Playhouse 13 – 17 September 2022. Here's a sneak preview: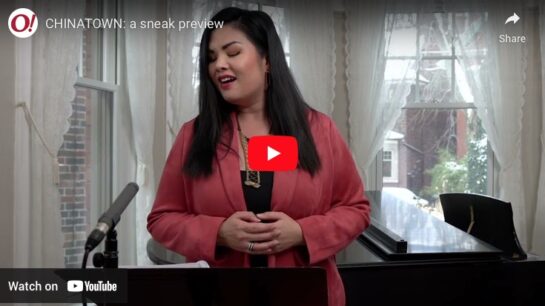 "CHINATOWN may be the most important new opera premiered in Canada this year."
-– Margaret Atwood
We look forward to seeing you
11am to 3pm
Saturday & Sunday, 28 and 29 May 2022
Home of Jane Henry, 2060 East 10th Avenue
near Trout Lake at Lakewood x N Grandview Highway
(Google Map)
Net proceeds of this sale go to City Opera & Western Front
/wp-content/uploads/2023/06/cov-web-logo-1030x240.png
0
0
generalmanager
/wp-content/uploads/2023/06/cov-web-logo-1030x240.png
generalmanager
2022-05-13 09:07:46
2022-05-13 18:02:55
Pottery e-special