City Opera News for 15 June 2022
"Countless stars, and this ocean too small to hold our memories."
— Xon Pon to Saihin in Chinatown
CHINATOWN: a powerful new opera
by Madeleine Thien, Alice Ping Yee Ho, and Paul Yee
13, 14, 15, and 16 September at 7:30pm
Saturday 17 September at 2pm
Vancouver Playhouse
Tickets on sale 15 July
"It may be the most important new opera premiered in Canada this year."
– John Atkin, Margaret Atwood, Sean Bickerton, Shirley Chan, Winnie Cheung, Catherine Clement, Judith Forst, Christopher Gaze, Terry Hunter & Savannah Walling, Kelly & Maggie Ip, Lorraine Lowe, Walter Quan, Leticia Sanchez, Sid Chow Tan, Bramwell Tovey, Mauro Vescera, Alexander Weimann, Maurice & Jane Wong, Wendy Yip, and Jennifer Yong.
See below for a special early-bird Chinatown offer
exclusively for our friends and supporters.
New Chinatown video
Thanks to our friends at the Vancouver Symphony Orchestra, this was shared with their audience at the Day of Music:
One of the reasons we created the new opera Chinatown…
lies in our history. Read The Guardian's account of how an extraordinary protest movement saved Chinatown and Vancouver's historic downtown.
Chinatown in Toronto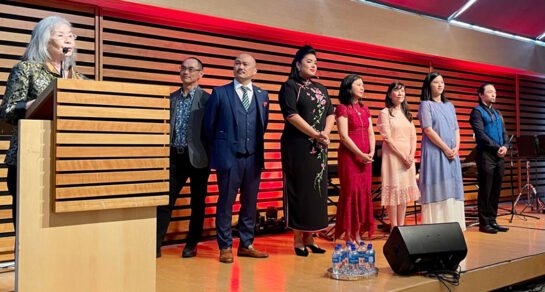 More than five hundred people attended a Chinatown preview in Toronto on 30 May, as the last event in their Asian Heritage Month celebrations. It was held at the Toronto Public Library, and part of our plan to win a Toronto production after the Vancouver premiere. All thanks to Alice, our hosts and artists.
Concerts this summer
Now that winter has ended, and summer is almost upon us, City Opera returns to free public concerts across the city, thanks to BC Gaming. Next? Tonight:
DTES Oppenheimer Park, Jackson x Powell. Wednesday 15 June, 7pm
With baritone Jason Cook, tenor Matej Kockovsky, and pianist Roger Parton
/wp-content/uploads/2023/06/cov-web-logo-1030x240.png
0
0
generalmanager
/wp-content/uploads/2023/06/cov-web-logo-1030x240.png
generalmanager
2022-06-13 11:20:11
2022-06-15 08:57:52
City Opera News for 15 June 2022