City Opera News / April 2023
Remembering Jocelyn Morlock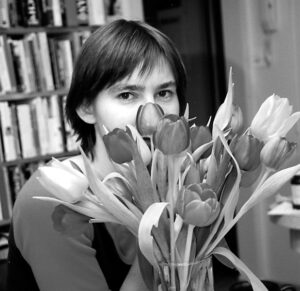 City Opera, along with Vancouver's music community, mourns the passing of an incredibly bright light, an enormous talent, and a friend.
Jocelyn Morlock's immense musical gifts, her bizarre and quirky humour, her kindness, and care, will leave a huge gap in our cultural world.
She left a glorious portfolio, human and musical. Her CMC catalogue lists 66 works. Many of them carry names and instrumentation as witty and sardonic as she was: Darwin's walkin' fish quartet; Asylum; Involuntary love songs; Aeromancy. Her gifts also included the studio, where she was comet and colleague to students. She had an abiding commitment to new and emotionally eloquent music, and to those who make it.
In 2019, City Opera asked permission to perform her comic cantata Perruqueries, with text by Bill Richardson (you can see it here). We knew she would say yes. We offered a good fee, and she declined. She told us to give it, instead, to someone she heard was broke, and to keep her name out of it. We did. This too was Jocelyn.
Jocelyn was: "A person is of consequence not so far as she leaves something behind her, but so far as she acts and enjoys, and rouses others to action and enjoyment." – Goethe
City Opera recognized by the Chinese Canadian Historical Society of BC and the Canadian Music Centre of BC
City Opera's CHINATOWN was recently named the co-winner of the Larry Wong award by the Chinese Canadian Historical Society of BC. This prize, established in 2018, recognizes a significant exhibition, educational project or program, or any effort made by an individual or organization to make an impact in public history pertaining to Chinese Canadian history and heritage.
Librettist Madeleine Thien, translator and advisor Paul Yee, and composer Alice Ping Yee Ho successfully created an opera in multiple languages to help depict the Chinese experience in Canada. City Opera's September 2022 production was a beautiful and moving story of racism, resilience, and family. Of significant note is how City Opera Vancouver and Founding Artistic Director, Charles Barber, deeply engaged with the community in the creation of this work.
City Opera shared this award with the Chinatown Storytelling Centre, another outstanding nomination for this prize.
In addition, City Opera Vancouver was recognized with the Barbara Pentland Award of Excellence for extraordinary contribution to Canadian music; this was presented to City Opera Vancouver by Sean Bickerton, BC Director of the Canadian Music Centre. It was noted that City Opera Vancouver "focused on giving voice to equity-denied groups through its choice of artists, stories and socially relevant themes, collaborating closely with artists and community members representative of the stories being told".
Further to this, the CMC remarked that there is "no separation of City Opera's social mission or artistic mission – they are one and the same". For all of the commissions of new work, for the support of Canadian composers, for the championing of important work that would not otherwise have been heard, and for the unique and extraordinary contributions to Canadian music that have been made, President of the Board Janet Lea accepted the award.
A Message From Our Interim Artistic Director, Alan Corbishley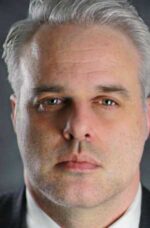 Dear COV Supporters,
It is a great honour to be taking the COV reins for the next few months and helping to shape our next artistic path. Together, our team has been working hard to get our next intimate production ready for you in May, namely The Book of My Shames by the formidable tenor Isaiah Bell. This will be a very personal look at male LGBTQ identity within the realm of being an opera artist – a perspective I myself am really looking forward to experiencing with all of you. We are also hard at work solidifying a free formal summer concert series in collaboration with the City of Vancouver and cannot wait to share that with you in the coming months.
Once again, I want to congratulate Charles Barber for all of his exceptional leadership in developing City Opera. Due to your passion and hard work, this company is known as a true pioneer in new work commissions, and in building formidable community engagement. Charles has been a great mentor to me, and I have so appreciated his insights and support over the past few years. Congrats on a much-deserved retirement.
Upcoming Show: The Book Of My Shames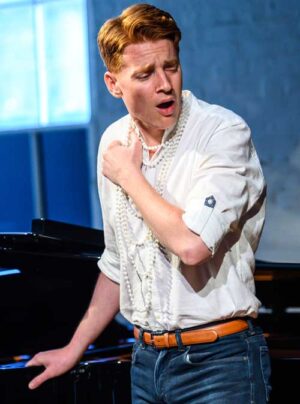 Tickets can now be purchased here!
ABOUT THE SHOW… On May 18, 19 and 20, 2023, City Opera Vancouver will present The Book of My Shames by Isaiah Bell and Sean Guist at the Firehall Arts Centre. This production marks its Vancouver premiere. Showtimes are 7:30 p.m.
The Book of My Shames is a touring, original one-man theatre production performed by Victoria-based tenor Isaiah Bell, co-created by Isaiah and director Sean Guist, with original words and music by Isaiah, accompanied by a four-person band.
In The Book of My Shames, a persistent emptiness of heart drives a youth from a restrictive fundamentalist commune to a passion for bad men, and on to a successful but strangely hollow life on the stage. Combining rapid-fire monologues and personal stories with an array of original music — chansons and ballads, cleverly touching cabaret songs, and expansive operatic scenas — this "comic, wrenching, and personal tour-de-force" reminds us that desire, rejection, shame, and the longing to be loved are themes common to us all. Isaiah just does it with operatic pathos and a wink, and possibly the most memorable use of a red plastic bucket you have yet to see.
Reviews of The Book of My Shames describe an experience that is "impossibly beautiful", "poignant, thoughtful, raw and honest", "touching, very funny, disturbing and sometimes quite revolting", and a "fascinating creation".
ABOUT THE ARTIST… Canadian tenor Isaiah Bell began his professional career as tenor in City Opera's production of Britten's Curlew River (2010), in the role of Madwoman, leading to a national career that has included lead roles with the Canadian Opera Company. More recently, Isaiah led COV's new English adaptation of The Human Voice (2021), which may be seen online here Learn more about Isaiah here.
An Invitation To Join The Board
Do you love what you have experienced at a City Opera production? Do enjoy working with a small, collegial and committed team? Are you looking for an opportunity to support a vibrant arts organization by donating your thoughts, your expertise and a bit of your time?
City Opera would love to talk to you about becoming a member of their Board of Directors.
If you are interested in joining our Board, please get in touch by email to janetlea@shaw.ca with your resume and a brief statement about what you feel you can contribute to City Opera's future. We would love to hear from you!
/wp-content/uploads/2023/06/cov-web-logo-1030x240.png
0
0
generalmanager
/wp-content/uploads/2023/06/cov-web-logo-1030x240.png
generalmanager
2023-04-05 13:44:18
2023-04-06 11:01:11
City Opera News / April 2023