City Opera News for 15 December 2018
Chinatown: A New Chamber Opera
Our next commission, scheduled for world premiere in late 2021, is underway. It tells the story of the people and culture of one of our most vital neighbourhoods.
Chinatown will be written by Madeleine Thien, a native daughter of Vancouver and author of Do Not Say We Have Nothing (2016). It won the Governor-General's Award, and the Giller Prize, and has been translated into 17 languages. This will be Maddie's first opera.
"I'm honoured to have this chance to immerse in the intricate and complex life of Vancouver's Chinatown. For over a century, this neighbourhood has been the centre of gravity for the imaginings, stories, experiences, heartbreaks and hopes of Vancouver's Chinese community. Many people – from divergent and overlapping histories and languages – call this neighbourhood home; for me, Strathcona and Chinatown are at the core of my own childhood and teenaged years," said Madeleine Thien.
"I'm deeply moved to be part of this project. I look forward to learning all that I can, and to working on an opera that might create, in unanticipated ways, a profound experience of our shared history and future."
Chinatown will involve heavy engagement with community through meetings, consultations, public workshops, and beta-testing. We have already held 28 such.
We are deeply grateful that The Vancouver Foundation and the City of Vancouver have awarded major grants toward the creation and production of this groundbreaking new work.

Rosemary Cunningham
Our great friend, advisor, and supporter Rosemary Cunningham has passed away at 90. She came to us a decade ago, when preparing her book Bravo: The History of Opera in British Columbia. She stayed to help with all of our early productions, until failing health made it impossible. We continued in close contact, regaling her with outlandish stories.
Thank you, Rosemary, for all you did for us, and for opera in British Columbia. City Opera artists performed at a private service earlier this month.
Nigredo Hotel, September 2018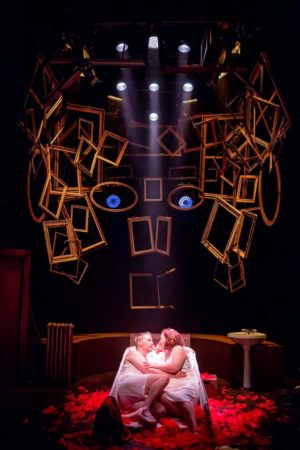 Thanks to stage director Alan Corbishley, baritone Tyler Duncan, soprano Sarah Vardy, lighting and set designer John Webber, players Martin Fisk, François Houle, Laurence Mollerup, Roger Parton – and many more artists – it was a tremendous success.
"[Tyler] Duncan's portrayal of Raymond was fast-paced and intense, getting more unsettled into the final climax, and his vocal performance was stunning. The part of Raymond has a huge range, both vocally and emotionally, and Duncan met it with consummate skill.
"[Sarah] Vardy's Sophie is an unusual character, at times contemptible, slovenly, threatening or soothing… While it takes some time for Vardy to sing more than the occasional interjections or acerbic remarks, when she finally does, it's beautiful, and brings out so much more about Sophie's character as she devolves into becoming far more than she appears.
"The chamber orchestra brought huge technical skill to a difficult piece. The lighting and set design of John Webber was phenomenal, with so many quick transitions, lighting changes and cues that immediately changed a mood, drew attention, and brought the show to life. The set was visually stunning, and used to excellent effect throughout." – Melissa Ratcliffe, Schmopera
We're planning to hire…
a 'Producer and Event Manager' and a 'Development Manager' in early 2019 – all going well with funding. Please watch our FB Page, and our website, for more information.
Concerts and Special Events
Year-round, City Opera gives concerts and special events – almost all of them free. To date, we have given 128 such concerts – 39 of them in the DTES alone.
Coming Up:
Celebrating the Vancouver Symphony Orchestra and 100 Years. Free
Sunday 26 January 2019, TBA
DTES Homeground Festival. Free
Friday 8 February 2019, 4pm, Oppenheimer Park, Jackson x Powell
In Our Community
Vancouver Opera: Give the gift of opera this holiday season!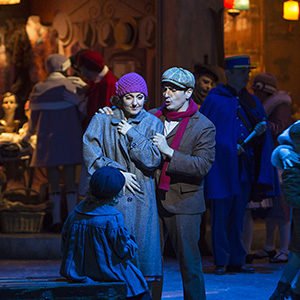 Opera's greatest love story, a devilishly delightful spectacle, and a treasured tale of rags to riches come together in the 2018-2019 Vancouver Opera Season and Festival.
Buy tickets or a subscription to Puccini's La Bohème February 14, 16, 19, 21, 24, at the Queen Elizabeth Theatre or the Fairytales & Fables themed Vancouver Opera Festival featuring Gounod's Faust and Rossini's La Cenerentola (Cinderella) in April/May. Tickets and gift certificates start at $50.
Buy your tickets online at vancouveropera.ca or call our ticket centre at 604.683.0222.
Photo by Iko Freese: Sophia Brommer, Leonardo Capalbo in La Bohème (2018) courtesy of Theater St. Gallen.
Early Music Vancouver
Festive Cantatas – A Monteverdi Christmas Vespers
Sunday, December 23, 3pm at the Chan Centre

With violins, cornetti, sackbuts, theorbos, keyboards and voices, EMV's Christmas presentation this season recreates the lavish celebration of Christmas Vespers from the Church of San Marco in 17th-century Venice, with music by the incomparable Claudio Monteverdi! Featuring works from his 1641 collection of sacred music, the concert will resound with the glorious sounds of a Christmas celebration you won't soon forget. Gloria in excelsis! More info and tickets here.
Vancouver Opera Guild
Our friends at the Vancouver Opera Guild are once again offering a Career Development Grant of $6000. This year, it is for singers only. Deadline: 15 April 2019. Many of our finest singers have, over the years, benefited from the Guild's philanthropy and foresight. Full information is on their website.
Even chamber opera costs money…
For all its affordable advantage, even chamber opera costs money. So do the concerts and special events we give across the year, and across the region. We would be deeply grateful for your assistance — and happily issue tax receipts.
A cheque to "City Opera Vancouver", PO Box 88393, Vancouver V6A 4A6 will lead to a tax receipt and many thanks.
The same result will obtain through Canada Helps. And thanks!
/wp-content/uploads/2023/06/cov-web-logo-1030x240.png
0
0
generalmanager
/wp-content/uploads/2023/06/cov-web-logo-1030x240.png
generalmanager
2018-12-13 12:16:31
2018-12-18 19:49:25
City Opera News for 15 December 2018