City Opera News for 23 January, 2023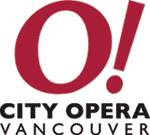 City Opera's Longtime Artistic Director To Retire
Vancouver, BC – The Board of Directors of City Opera Vancouver (City Opera) today announced that Founding Artistic Director Dr. Charles Barber will be retiring from his position, effective March 1, 2023. His departure follows the successful premiere of City Opera's fifth commission, Chinatown, which chronicles the rich history of this dynamic Vancouver neighbourhood.
Charles, now 73, has helmed the organization since 2006, when it was founded with a vision of bringing live, accessible chamber opera to Metro Vancouver. The company has gained a stellar reputation for creating new work that highlights stories of marginalization and resilience, and for its free community concerts.
"After 16 active years, it is time for City Opera to move to a new generation of leadership and ideas," says Charles. "I leave with deep pride in all we have accomplished, and look forward to the prospect of City Opera's many new creations to come."
"Charles has led City Opera with enormous vision and a determination to create opera that tells significant Canadian stories," says City Opera board member and President Emerita Janet Lea. "He leaves behind a strong legacy of community partnerships that champion new work and artists. We are grateful for his dedication to City Opera and his many contributions to it."
The company will begin a search for a new artistic director, led by Janet Lea. An interim artistic director will be appointed to oversee the organization through its spring season, with Charles assisting through the transition.
About Dr. Charles Barber
For City Opera, Charles initiated the creation of five commissioned operas: Fallujah (2012), with libretto by Heather Raffo; Pauline (2014), with libretto by Margaret Atwood; The Lost Operas of Mozart (2016), with libretto by Maria Reva; Missing (2017), with libretto by Marie Clements; and Chinatown (2022), with libretto by Madeleine Thien. He also led the local premieres of Der Kaiser von Atlantis (2008); Sumidagawa & Curlew River (2010); and Berlin: The Last Cabaret (2020).
His books include Corresponding With Carlos: A Biography of Carlos Kleiber and Lost in the Stars: The Forgotten Musical Life of Alexander Siloti. In addition, he has written or co-written some 95 essays for New Grove (2000).
Charles has served as Music Advisor to the BBC and as assistant conductor to Marty Paich in recordings and concerts with a variety of artists, including Stan Getz, Linda Ronstadt, Mel Tormé and Sarah Vaughn. He began music studies at age six and had conducted his first orchestra by age 15. He holds a Bachelor of Music (University of Victoria) and a Master of Arts and Doctor of Musical Arts (Stanford University).
About City Opera
City Opera is British Columbia's first professional chamber opera company. Now in its 16th year, the company produces and presents opera, both live and online, from its rise in 1600 through new works created in our time. To date, the company has given 217 concerts and special events (71 in the Downtown Eastside), and 12 mainstage productions, including five commissions.
City Opera's repertoire reflects its vision of producing chamber opera for everyone, from free community pop-up opera concerts and specially-created digital programs, to full-length classical and commissioned operas. The company focuses on giving voice to equity-denied groups through its choice of artists, stories and socially-relevant themes, such as Indigenous rights and racism, collaborating closely with artists and community members representative of the stories being told.
For more information:
Janet Lea
President Emerita, City Opera
E: janetlea@shaw.ca
T: 778.231.6941
www.cityopera.com
/wp-content/uploads/2023/06/cov-web-logo-1030x240.png
0
0
generalmanager
/wp-content/uploads/2023/06/cov-web-logo-1030x240.png
generalmanager
2023-01-22 20:17:02
2023-01-23 10:17:52
City Opera News for 23 January, 2023