IN THIS ISSUE:
Mutual Aid • Chinatown • Berlin in 1934 • Kattia And Miro • Jaap

Mutual Aid

Performing arts organizations and artists are being swept by a tsunami.
We have seen our best replies: sopranos singing opera to their neighbours. Orchestras online, playing from 60 different music rooms. Italian Air Force jets streaming red, white, and green flares while Pavarotti sings Vincerò to thousands below. From the Berlin Philharmonic to The Canadian Opera Company, great houses around the world have opened their online archives. Art and dance and music are rising to the occasion.
Meantime, we 'shelter in place', and endure. There are in Vancouver dozens of companies, and many hundreds of performers, whose lives depend on venues that are now closed, tickets that cannot be sold, concerts that cannot be given, and salaries that cannot be paid. Cash reserves have been exhausted. For others, we now ask your help.
If you have a favourite ensemble, company, studio, performer, designer, technician, collaborative… why not find a way to help? A cheque, a note, CanadaHelps, an advance on a gift you were going to make anyway… all of it will sustain others, and help more than we can yet imagine. Thank you. Thank you.

Chinatown: meet our composer
On 28 April, and in a second round on 5 May, four candidate composers were heard, anonymously, by our online Jury. Their settings of excerpts from Madeleine Thien's libretto were recorded by tenor Justin Cho, baritone Samuel Chan, and pianist Roger Parton. At the end, juror Judith Forst asked, "Who have we chosen?"
Meet Alice Ping Yee Ho
Her works have been performed by the Toronto, Vancouver, Winnipeg, Victoria, Nova Scotia, Hamilton, Kitchener-Waterloo, and Windsor symphony orchestras, and the Finnish Lapland Chamber Orchestra, Esprit Orchestra, China National Symphony, Shanghai Philharmonic Orchestra, Polish Radio Choir, Estonia's Ellerhein Girls' Choir, the Luxembourg Sinfonietta, Le Nouvel Ensemble Moderne, New Music Concerts, Penderecki String Quartet, TorQ percussion quartet, Duo Concertante, and at the ISCM World Music Days, Ottawa Chamberfest, Demark's CRUSH New Music Festival, and Asian Music Week in Japan. A two-time JUNO Award Nominee (2015 and 2018), she has an impressive discography released on the Centrediscs, Naxos, Marquis Classics, Blue Griffin, Electra, and Phoenix labels.

"Ho's musical language is a startlingly original three-way mélange of Baroque, traditional Chinese and contemporary Western idioms. The sung dialogue (the libretto is in English) between the two illicit lovers is strikingly stylized, as if they were acting out a ritual while having a conversation. Rhythmic energy and fresh, exotic instrumental colors spill from every bar in Ho's expertly deployed mashup of instruments from different cultures—pipa, zhongruan and erhu with lute, recorders and harpsichord, plus modern strings and ominously pounding percussion."

– The Lesson of Da Ji. Joshua Rosenblum, Opera News, New York, May 2016
Alice holds a Bachelor of Music degree in composition with high distinction from Indiana University, and a Master of Music degree in composition from the University of Toronto. Her teachers have included John Eaton (USA), Brian Ferneyhough (Germany), and John Beckwith (Canada). Alice also speaks fluent Cantonese. This is her first commission for City Opera.
www.alicepyho.com
Chinatown opens in September 2021 at the Vancouver Playhouse.
Chinatown text workshops concluded
In November-December 2019 and February 2020, these public workshops road-tested and beta-tested our next commission. Hundreds attended and gave us perspective, criticism, and ideas. We are grateful to all, and to The Vancouver Foundation, and the Vancouver Creative Cities programme, for their tremendous support.
Special thanks to our Susan Ma, for her extraordinary work convening these workshops.
Berlin 1934: The Last Cabaret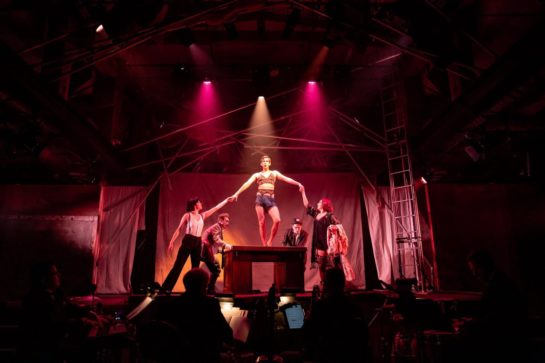 A Triumphant Success at the PuSh International Performing Arts Festival
All four shows sold out. We continue to widen the horizon for chamber opera, and are deeply grateful to PuSh for inviting their audience to join ours.
If you weren't able to attend, here's the Programme Book.
Super-thanks to our performers Meaghan Chenosky, Daniel Deorksen, Alen Dominguez, Brent Hirose, and Julia Munĉs; band members Martin Fisk, Ed Henderson, François Houle, and Roger Parton; translator Jeremy Lawrence; all of our designers, technicians and crew; the composers and artists who almost a century ago invented the heart of this work; our donors, supporters, and Board; and – irreplaceably – the co-creators of Berlin: Alan Corbishley, Joanna Garfinkel, and Roger Parton. Theirs was an amazing achievement.

Meet Kattia and Miro…
City Opera's newest Board members. Kattia Woloshyniuk and Miro Kinch joined joined us on 16 March, and bring energy, experience, enthusiasm and drive to our company. Kattia (above, left) is a Development and Operations Technician, Ministry of Transportation and Infrastructure, and most recently ran our on-site ticketing services for Berlin. Miro is a writer, designer, fundraiser, and arts administrator who is helping lead City Opera's business development initiatives. We are honoured to have them with us.

And we say farewell to Jaap Hamburger
Jaap joined our Board on 2 April 2009, helped us launch The Emperor of Atlantis, and has been a steady and brilliant member of the Board ever since. Jaap has retired from his career as Interventional Cardiologist, and moved to Montréal to pursue music and his first love, composition. He has completed his first opera, Goldwasser, received commissions from Discovery Channel, Rex Video London UK, Turning Point Ensemble, and Dutch Television, and was recently appointed Mécénat Musica's Composer in Residence. Congratulations, and thank you for all, Jaap. You are a wonderful friend to City Opera.


/wp-content/uploads/2023/06/cov-web-logo-1030x240.png
0
0
generalmanager
/wp-content/uploads/2023/06/cov-web-logo-1030x240.png
generalmanager
2020-05-11 11:32:35
2020-05-11 13:11:40
COV News for 11 May 2020